OstWestfalenLippe (OWL) is "at the top of North Rhine-Westphalia". And not just in geographical terms: excellent universities, scientific laboratories and institutes as well as numerous sector networks, initiatives and service providers contribute to a dynamic and thriving region: with 120,000 companies and a gross domestic product of EUR 60 billion, the region is one of the strongest commercial areas in Germany.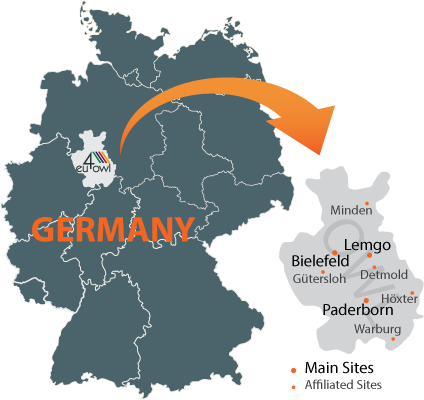 Five public universities with locations all over OWL and more than 55,000 students make OWL a strong scientific location (see illustration). Seven private universities complement the wide range of study options. Since 2016, the five public universities have been working together in the Campus OWL.
The technology network "it's OWL" – short for Intelligent Technical Systems OstWestfalenLippe (http://www.its-owl.com/home/) – is an alliance of 180 businesses, universities and other partners with the aim to take a leading role among global competitors in the field of intelligent technical systems and make Industry 4.0 a reality.
The cities of Bielefeld and Paderborn, mid-sized towns and rural areas are home to around two million people. Situated in central Germany, OWL is easily accessible by road, rail and air. With a wide variety of natural landscapes such as the Teutoburg Forest, historical old towns and an inviting social scene, it has something to suit every taste and lots to offer in terms of leisure. For more information about the region, visit the OstWestfalenLippe GmbH (http://www.ostwestfalen-lippe.de/) website.